Child Breathing and Wellness
---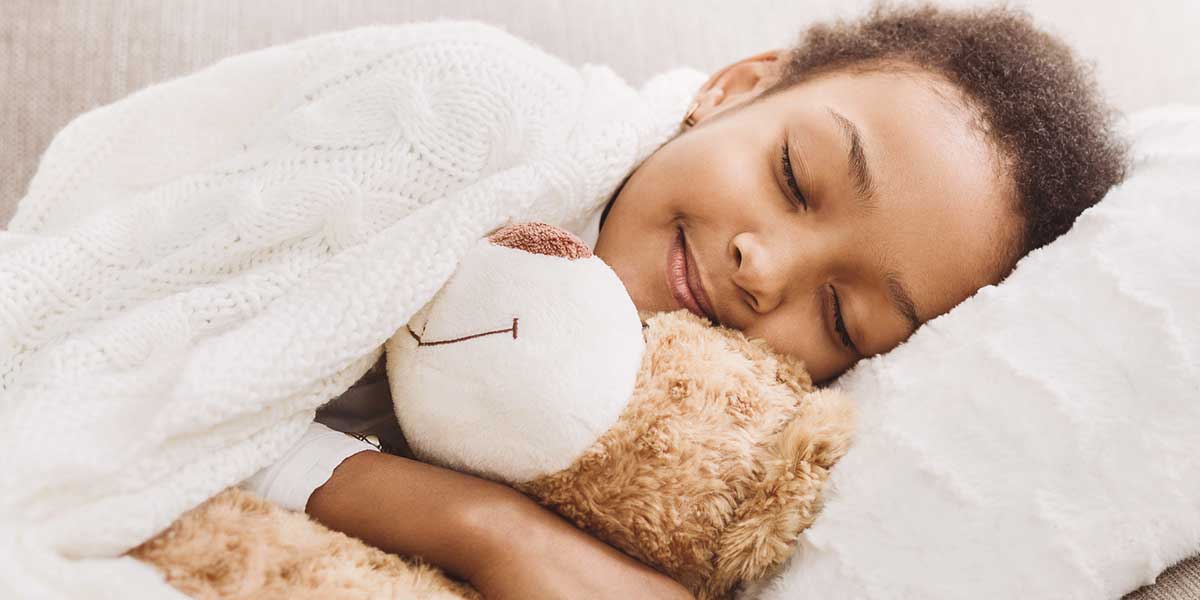 Sunshine Dentistry is dedicated to helping your child thrive. Our award-winning pediatric dentists provide treatment for sleep disordered breathing in Cape May Court House. Send us a message or call 609-465-5415 to book an appointment.
---
What Is Sleep-Disordered Breathing?
---
Sleep-disordered breathing is a term that covers a broad spectrum of conditions children may experience while sleeping.  Examples of sleep-disordered breathing include loud snoring, obstructive sleep apnea, and mouth breathing. Sleep-disordered breathing can prevent your child from receiving the uninterrupted sleep they need for proper development.
---
Causes of Sleep-Disordered Breathing in Children
---
In young people, sleep disordered breathing may be caused by:
Crooked and crowded teeth

Improper bite 

Underdeveloped jaw

Relaxation of the soft tissues in the back of the throat while the child is sleeping

Enlarged adenoids

Enlarged tonsils 

Structural deficiencies

Neuromuscular conditions including Cerebral Palsy

Inherited condition (family history of sleep apnea)

Large tongue
---
---
---
Symptoms of Sleep Disordered Breathing
---
If your child is suffering from sleep disordered breathing they may present symptoms such as:
Pausing between breaths while sleeping 

Coughing while sleeping

Gurgling or choking while sleeping

Gasping while sleeping

Slow heartbeat

Loud snoring

Wetting the bed

Daytime fatigue

Tonsillitis

Frequent ear infections

Frequent sinus infections

Restless sleep

Unusual sleeping positions
---
Risks of Sleep-Disordered Breathing in Children
---
Getting enough quality sleep is essential for children and adults alike. When children do not sleep soundly or do not receive enough oxygen while sleeping, their overall health and well-being can be compromised. Risks of sleep disordered breathing in children may include:
Irritability

Difficulty concentrating

Delayed growth and development

Problems with memory

Cardiovascular problems (arrhythmias)

Respiratory problems

High blood pressure
---
---
---
Treatment for Sleep Disordered Breathing
---
Dentists provide treatment for sleep disordered breathing in children if the cause is a restricted airway. Treatments for sleep disordered breathing available at Sunshine Dentistry include Prosomnus oral appliances that push the lower jaw forward. This keeps the airway open while your child sleeps.
The Vivos pediatric oral device is also offered to eligible patients. The Vivos device works by enlarging the soft palate and the lower jaw, thereby creating more space and an unobstructed airway for your child. 
---
Why Choose Sunshine Dentistry?
---
Sunshine Dentistry specializes in breathing and wellness for young patients. Because oral conditions are often to blame for sleep disordered breathing, your child may be referred to a dentist instead of a physician for oral appliance therapy.
As an all-age dental practice, Sunshine Dentistry was recognized as a 2022 Best of Jersey Shore provider in the categories of Pediatric Dentist, Dentist, and Cosmetic Dentist. Our dentists are also included in lists of New Jersey's Top Doctors in the field of Dentistry. 
To best serve busy working parents and their children, we offer appointments beginning at 7:00 am several days each week. We also see patients until 7:00 pm Monday- Thursday.
---
FAQs About Child Breathing and Wellness
---
---
---
---
---
---
---
Contact Us to Schedule Your Child's Appointment
---
If you're concerned that your child isn't getting the quality, uninterrupted sleep they need, contact Sunshine Dentistry. Our pediatric dentists will evaluate your child's jaw, airway, and bite to determine if an oral condition is to blame and design a custom treatment plan to help your child get the sleep they need. Send us a message to book an appointment or call 609-465-5415.
---
---
Learn more about the Risks of Sleep Disordered Breathing
---
You can read an article that was written by Michael J Breus, Ph.D. and published by
Psychology Today
.
---
Click Here to Read the Article